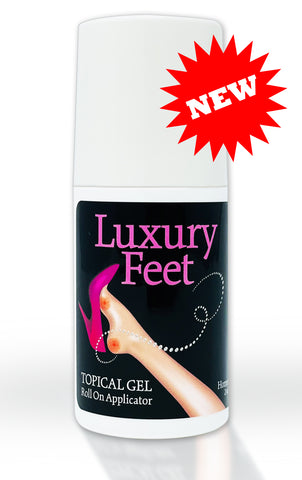 Luxury Feet Foot Pain Relief Roll On Gel Homeopathic Topical Pain Reliever
Love the sleek look of a high heel or pointy toe shoe? Who doesn't! Ladies, we all know that prolonged wearing of these types of shoes can sometimes cause pain in your feet. If you hate the idea of giving up your heels, consider using Luxury Feet to help relieve foot pain. Use Luxury Feet both before and after wearing your heels!
LUXURY FEET: Great for pain caused by repetitive stress from the pounding pulses with every step you take in your heels.
DIRECT FOOT PAIN RELIEF: Reduces inflammation and relieves pain by going directly on the site of the pain, blocking it and soothing nerve endings.
SAFE TO USE: Luxury Feet is safe to use every day!
ALL DAY RELIEF: Luxury Feet helps if you have to stand on your feet all day or if you are doing a lot of walking.
DENY THE PAIN: Wear heels again!